---
Dresden is a growing city and attracts many cultures from all over the world. However, Saxony is also increasingly affected by the shift to the right and the division of German society. To reduce the tensions between the growing number of migrants or refugees and the population, Dresden urgently needs an intercultural dialogue.
The aim of power4africa is to open a pluralism centre on our property in Klotzsche in order to generate such an intercultural dialogue. For this purpose we are organising BBQ and possibilities to get to know eachother. Our bright winter garden offers space for art exhibitions and through our well soundproofed room, people of all nations can not only attend our music events together, but also become musically active themselves! Through all these possibilities we want to create opportunities for exchange between people of all nations - no matter if young, old, from Dresden, German or from somewhere else: Everyone is welcome to get to know each other and exchange ideas.
The opening will take place as soon as the current corona crisis has been overcome, in order to celebrate the newly won joie de vivre in a fitting manner.
The project is currently in the construction phase and we are looking forward to any support in its implementation.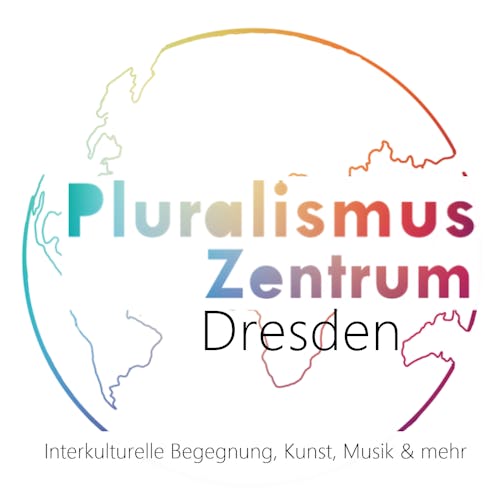 ---
12.12.19
Energy Workshop for Sub-Saharan Africa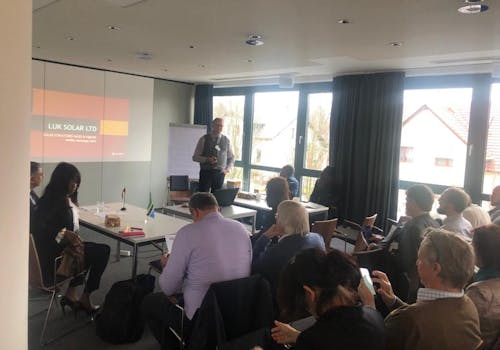 Thursday 8:30-18:00
Under this year's theme we present, as in previous years, numerous interesting contributions from representatives of well-known companies in the energy sector and the new funding instruments under AfricaConnect. These were announced by the Federal Minister for Economic Cooperation and Development Dr. Gerd Müller on 04.06.19 at the AXICA Congress and Conference Centre at Pariser Platz in Berlin.
---
29.11.19
Intercultural Festival in the Pluralism Centre!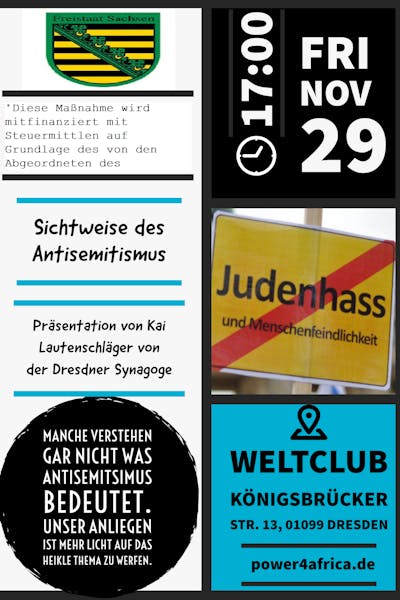 Die Ereignisse der letzten Woche in Limburg und in Halle zeigen die Dringlichkeit Ursachenforschung zu betreiben, Brainstorming zu machen, Debatten zu führen, um nach Lösungsmöglichkeiten zu suchen. Mit den beiden Ereignissen und dem Vorstoß der türkischen Armee gegen die Kürden an der syrischen Grenze alles in einer Woche und in einer Zeitspanne von vier Tagen zeigt wie fragil die Weltlage ist. Mit jeder solcher Konfrontation wächst die Gefahr der Verfeindungen zwischen den Bürgern türkischer und kürdischer Abstammungen auf deutschen Gebiet und die Gefahr der Ausweitung der Konflikte. Analysten prophesierten "den Vormarsch des Anti-semitismus" im Osten unseres Landes bereits Mitte-September d.J. In der zweiten Woche wurde es Realität. Manche verstehen gar nicht, was Anti-semitismus bedeutet. Unser Anliegen ist, mehr Licht auf das heikle Thema zu werfen.
Die Ziele sind eindeutig. Eine Aufklärung in Schichten der Gesellschaft anzustreben, die am meisten davon beeinflusst werden können. Die christliche-deutsche Bevölkerung mag eine andere Auffassung über Anti-semistismus als die Neuankömmlinge, sprich Flüchtlinge und Migranten. Mit der gewaltigen Auseinandersetzungen an der Grenze zu Syrien, wächst die Gefahr, dass noch viel mehr Flüchtlinge Schutz in
Europa suchen. werden. Unser Event möchte die Teilnehmer bereits darauf vorbereiten.
Vorgesehener Ablaufplan
15:00 - 15:30 :
Get-together am PluralismusZentrum Klotzsche beim Kaffeeklatsch und heiterer Musik
15:30 - 16.00 :
Vorstellung der Hauptreferenten und Einleitung - Kulturkonflikte und Missverständnisse
he events of the last week in Limburg and Halle show the urgency to investigate the causes, to brainstorm, to debate and to look for possible solutions. With these two events and the Turkish army's advance against the hurdles on the Syrian border, everything in one week and in a period of four days shows how fragile the world situation is. With every such confrontation the danger of hostilities between citizens of Turkish and dignified descent on German territory and the danger of the conflicts spreading increases. Analysts prophesied "the advance of anti-Semitism" in the east of our country already in mid-September this year. In the second week it became reality. Some people do not even understand what anti-Semitism means. Our concern is to shed more light on this sensitive issue.
The goals are clear. To seek to educate those strata of society who can be most influenced by it. The Christian-German population may have a different view of anti-Semitism than the newcomers, i.e. refugees and migrants. With the huge conflict on the border with Syria, there is a growing danger that many more refugees will find protection in
Europe. Our event would like to prepare the participants already.
Planned schedule
15:00 - 15:30 :
Get-together at the PluralismusZentrum Klotzsche with coffee klatsch and cheerful music
15:30 - 16.00 :
Presentation of the main speakers and introduction - cultural conflicts and misunderstandings
16.00 - 16:30 :
Lecture by the keynote speaker (Oliver Bradley from Berlin - Media-Relation, EIPA - Europe) Origins of anti-Semitism, how the problem should be tackled and overcome
16:30- 17:00:
Questions and answers - open discussion with the audience
17:00 - 17:15:
Music by MadagasART with coffee and drinks
17:15 - 17:45:
Presentation to an Indian speaker. How conflicts between the enemy parties can be scaled down
17.45 - 18.00 :
Questions and answers and open discussion
18.00 - 18.30:
Presentation by Mrs. Hyeinn Yoo, Boston University
Cultural conflicts in Asia and in the USA and how they can be contained
18.30 - 19.00:
Questions and answers - open discussion with the audience
19:00 - 20:30:
Networking session + food cooked by Fatima with live music
27.09.19
Intercultural Festival at the PluralismCenter "Pluralismus Zentrum"!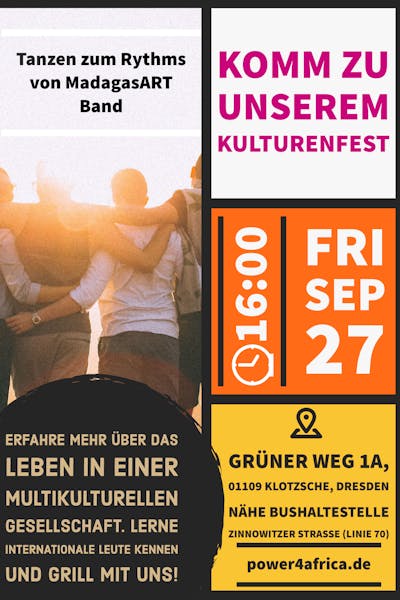 As part of the intercultural days, a cultural festival will take place on 27.09. in our prospective Pluralism Centre in Dresden Klotsche. The band MadakasArt will play music and accompanied by this we will eat our food and drinks, create encounters between the intercultural participants and exchange about current topics. In this way we do not only want to become a closer community, but we also want to make each other aware of the constraints, problems and fears in other nations in order to create more understanding for each other.
---
24.08.19
indivisible-Demo
The broad alliance #indivisible is committed to an open and solidary society (https://www.unteilbar.org). After the great success of the #unteilbar-Demo in Berlin on 13.10.18 with more than 240.000 participants*, the alliance is now organising another nationwide demonstration "Solidarity instead of exclusion" in Dresden on Saturday, 24.08.19 (https://www.unteilbar.org/demo-dd). Background is a Europe-wide spread nationalism, right-wing populism and racism as well as the upcoming state elections in Saxony, Brandenburg and Thuringia.the Development Policy Network Saxony (ENS), the INKOTA-network, the agl - Working Group of One World State Networks in Germany e.V., Venro - Association of Development Policy and Humanitarian Aid of German Non-Governmental Organisations and the North-South Bridges Foundation are organising a development policy block at the demonstration under the motto "A good life for all people ... here and everywhere!
---
21.08.19
Lecture on the subject of climate flight: The phenomenon of migration, causes and solutions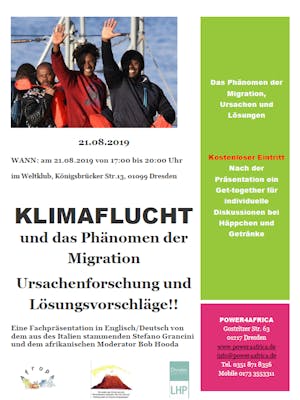 ---
05.06.2019
"Dresden isst bunt - a feast for all"
On Wednesday evening from 17 to 20 o'clock there will be a big feast for all at the Dresden Altmarkt. Under the motto "Dresden is colourful", all people should come together for a common meal - no matter if meat eater or vegan, local or from another nation. This campaign is intended to promote a cosmopolitan and colourful Dresden. So COME ALL! Take part and get to know each other. Let it be known that Dresden consists of more than Monday demonstrations.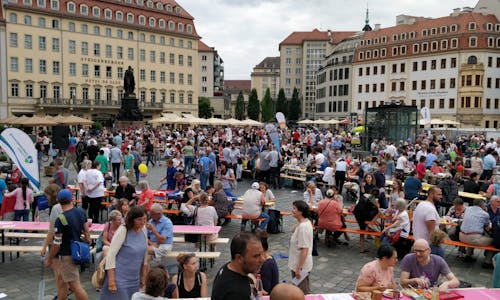 Edit: Wow! More than 3000 people came and made the event a unique experience. Thanks to all who participated and/or organized!
---
22.03.2019
Nowruz
Freitag 22.03.2019 von 16.00 bis 20.00 Uhr – Künstlerhaus, Grüner Weg 1a, 01109 Dresden
---
21.12.2018
The mainstream media in India and Pakistan: How moral and free are they really? (panel discussion) at the World Club
Particular attention was paid to the main media in the two countries. The influence on possible solutions was dissected and then discussed objectively. The evening was rounded off with personal talks and Asian snacks.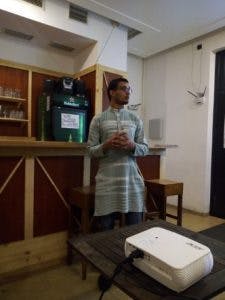 ---
December 2018
The world in upheaval - Africa on the moveAfrica as a pioneer for sustainable energy supply.
We are holding our 14th Energy Forum on 06 December 2018.
Under this year's theme, as in previous years, we will present numerous interesting contributions from representatives of well-known companies in the energy sector, the Berlin Agency for Economics and Development, the Technical University of Dresden and the Federal Ministry for Economic Cooperation and Development on the opportunities for entry into Africa - the world's fastest growing continent. The official speech will be held by the Tanzanian ambassador in Berlin, Dr. Abdallah Saleh Possi.
This measure is co-financed with tax funds on the basis of the budget approved by the members of the Saxon State Parliament.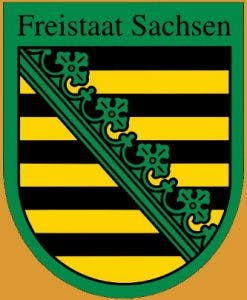 ---
11.11.2018
Cultur-Festival in Freiberg.

During a colourful drifting to different cultural sounds and dances, there was also a very appealing, international buffet.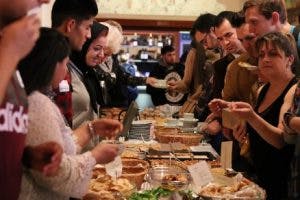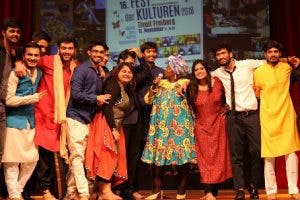 ---
28.09.2018
Glimmers of hope in Southeast Asia - Are the two nuclear powers moving closer together after the elections in Pakistan? After the elections in Pakistan on July 25, 2018, the question was raised whether this would allow a rapprochement with India. This was widely discussed with experts and the audience.
---
26.09.2018
during the intercultural weeks
Marshall Plan with Africa (lecture) in the World ClubHere the implementation of the Agenda 2030 for sustainable development of the United Nations was examined. Particular attention was paid to the issues of health, trade policy and the development of agriculture in Africa.
---
24.08.2018
2018: The Year of the Dialoque: There were heated discussions with the experts about the policy between the two nuclear powers India and Pakistan.
---
23.08.2018
Banquet in Prohlis

We have achieved a great response here with Indian cuisine. Our neighbours offered Eritrean and Russian food. At the culinary feast we had good conversations and promoted international understanding.
---
19.06.2018
Dresden is colorful 2018. a feast for all on the Neumarkt. here we can let the pictures speak for themselves.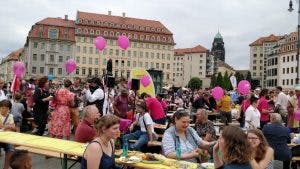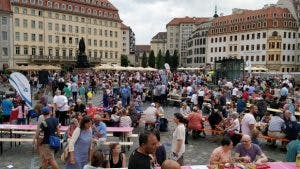 ---
03.06.2018
Mulakat

With food, chai and folklore there was a pleasant exchange, which was accompanied by expert lectures.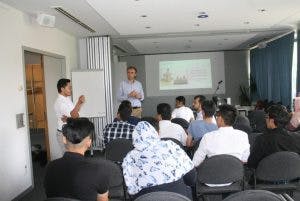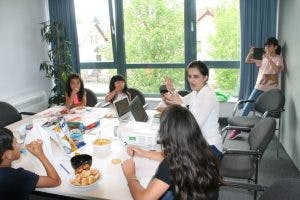 ---
April 2018
Campfire and barbecue in the Walpurgis night of 30 April in international round.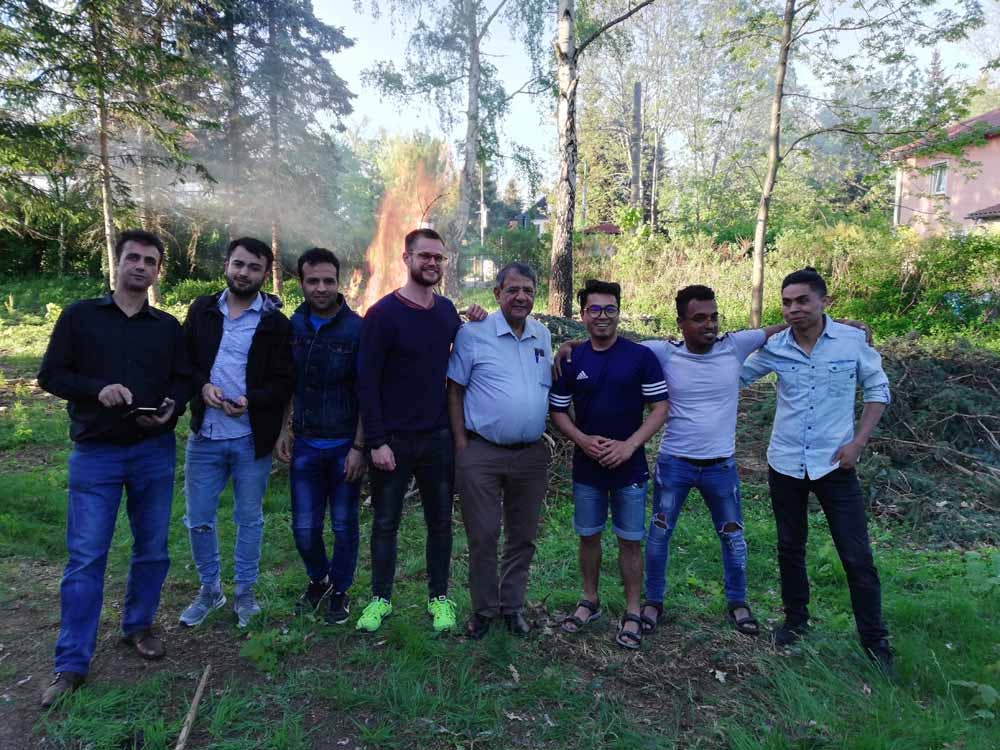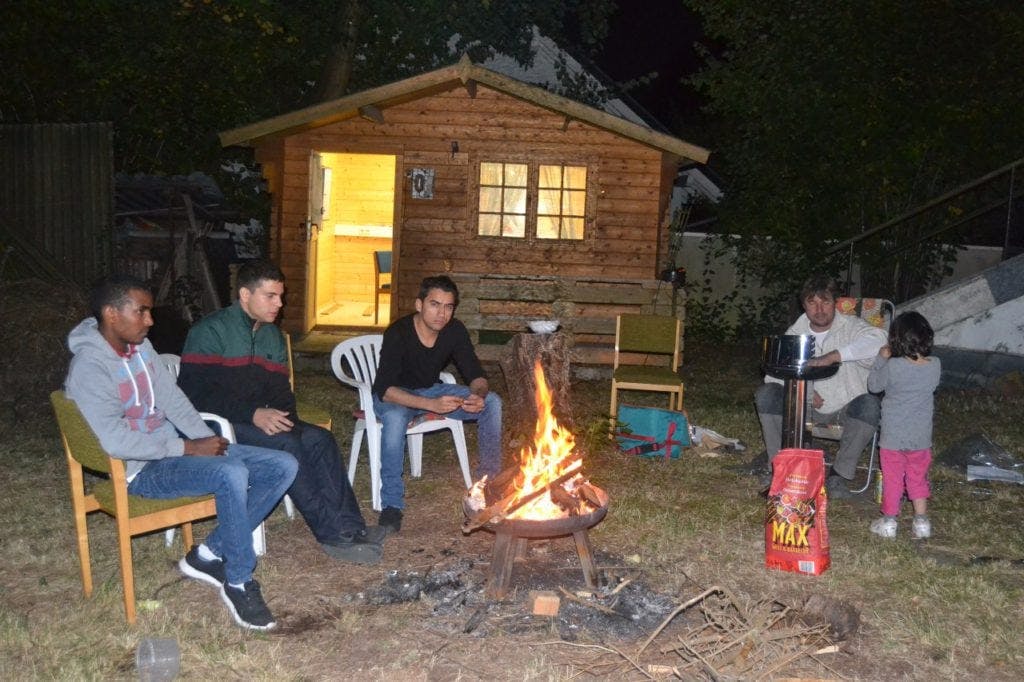 ---