---
Reopening - Pluralism Center Dresden
Dresden is a growing city and attracts many cultures from all over the world. However, Saxony is also increasingly affected by the shift to the right and the division in German society. In order to reduce the tensions between the growing number of migrants and refugees and the population, Dresden urgently needs an intercultural dialogue.
The aim of power4africa is to open a pluralism center on our property in Klotzsche in order to generate such an intercultural dialogue. For this purpose, we organize a BBQ and a coffee chat on our large site with an extra tea room. Our bright studio offers space for art exhibitions and thanks to our well-soundproofed room, people of all nations can not only attend our music events together, but can also be musically active themselves! With all these possibilities, we want to create opportunities for exchange between people of all nations - whether young, old, Dresden, German or from somewhere else: everyone is warmly welcome to get to know each other and to exchange ideas.
The opening will take place as soon as the current corona crisis has been overcome in order to celebrate the newly won joie de vivre.
The project is currently in the development phase and we look forward to any support in its implementation.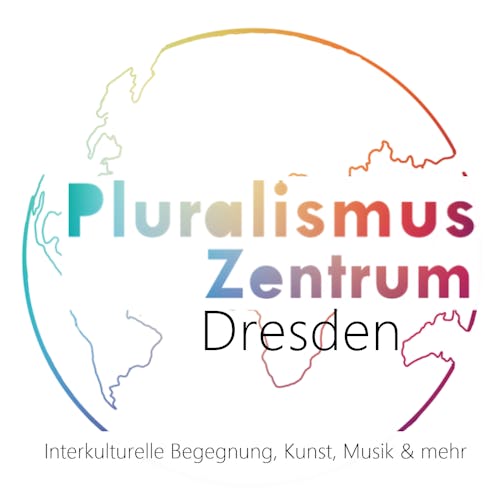 ---
12.12.19
Energy workshop for Sub-Saharan Africa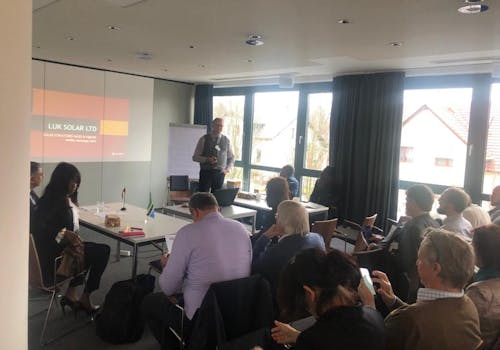 Thursday 8:30 a.m. to 6:00 p.m.
Under this year's theme, as in previous years, we are presenting numerous interesting contributions from representatives of well-known companies in the energy sector and the new funding instruments under AfricaConnect. The Federal Minister for Economic Cooperation and Development, Dr. Gerd Müller announced on June 4th, 2019 at the AXICA Congress and Conference Center at Pariser Platz in Berlin.
---
29.11.19
Intercultural festival in the pluralism center!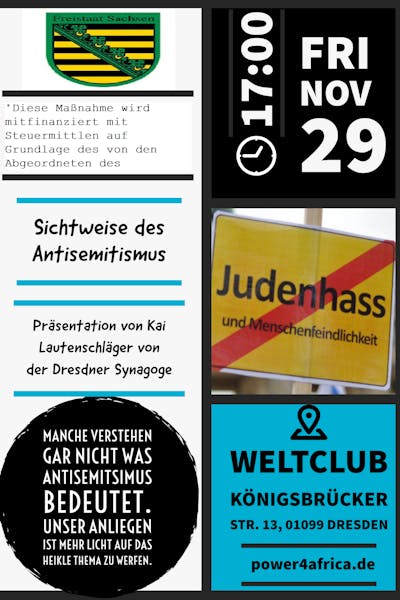 Die Ereignisse der letzten Woche in Limburg und in Halle zeigen die Dringlichkeit Ursachenforschung zu betreiben, Brainstorming zu machen, Debatten zu führen, um nach Lösungsmöglichkeiten zu suchen. Mit den beiden Ereignissen und dem Vorstoß der türkischen Armee gegen die Kürden an der syrischen Grenze alles in einer Woche und in einer Zeitspanne von vier Tagen zeigt wie fragil die Weltlage ist. Mit jeder solcher Konfrontation wächst die Gefahr der Verfeindungen zwischen den Bürgern türkischer und kürdischer Abstammungen auf deutschen Gebiet und die Gefahr der Ausweitung der Konflikte. Analysten prophesierten "den Vormarsch des Anti-semitismus" im Osten unseres Landes bereits Mitte-September d.J. In der zweiten Woche wurde es Realität. Manche verstehen gar nicht, was Anti-semitismus bedeutet. Unser Anliegen ist, mehr Licht auf das heikle Thema zu werfen.
Die Ziele sind eindeutig. Eine Aufklärung in Schichten der Gesellschaft anzustreben, die am meisten davon beeinflusst werden können. Die christliche-deutsche Bevölkerung mag eine andere Auffassung über Anti-semistismus als die Neuankömmlinge, sprich Flüchtlinge und Migranten. Mit der gewaltigen Auseinandersetzungen an der Grenze zu Syrien, wächst die Gefahr, dass noch viel mehr Flüchtlinge Schutz in
Europa suchen. werden. Unser Event möchte die Teilnehmer bereits darauf vorbereiten.
Vorgesehener Ablaufplan
15:00 - 15:30 :
Get-together am PluralismusZentrum Klotzsche beim Kaffeeklatsch und heiterer Musik
15:30 - 16.00 :
Vorstellung der Hauptreferenten und Einleitung - Kulturkonflikte und Missverständnisse
16.00 - 16:30 :
Vortrag des Hauptreferent (Oliver Bradley aus Berlin - Media-Relation, EIPA - Europa) Ursprünge des Antisemitismus, wie das Problem angegangen und bewältigt werden soll
16:30- 17:00:
Fragen und Antworten - Open-Discussion mit dem Publikum
17:00 - 17:15:
Musik by MadagasART beim Kaffee und Getränke
17:15 - 17:45:
Präsentation bei einem indischen Referent. Wie Konflikte zwischen den verfeindeten Parteien herunter geschraubt werden können
17.45 - 18.00 :
Fragen und Antworten und Open-Discussion
18.00 - 18.30:
Präsentation von Frau Hyeinn Yoo, Boston University
Kulturkonflikte in Asien und in den USA und ewie sie eingedämmt werden können
18.30 - 19.00:
Fragen und Antworten - Open-Discussion mit dem Publikum
19:00 - 20:30:
Networking-Session + Essen gekocht von Fatima bei Live Musik
---
27.09.19
Interkulturelles Fest im Pluralismus Zentrum!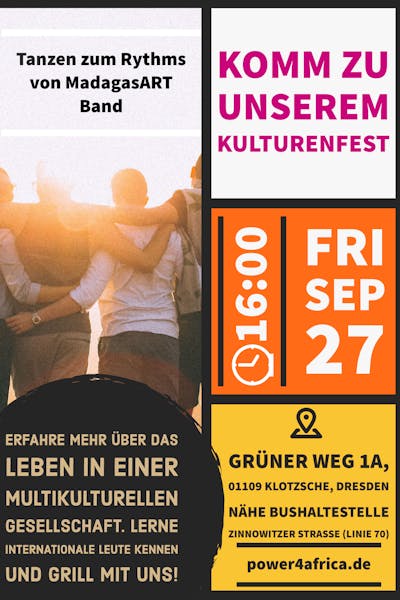 Im Rahmen der interkulturellen Tage findet am 27.09. ein Kulturfest in unserem angehenden PluralismusZentrum in Dresden Klotsche statt. Die Band MadakasArt wird dabei musizieren und begeleitet davon werde wir unsere mitgebrachten Speisen und Getränke verzehren, Begegnung zwischen den Interkulturellen Teilnehmern schaffen und uns über aktuelle Themen austauschen. Dadurch wollen wir nicht nur eine engere Gemeinschaft werden, sondern auch uns gegenseitig die Zwänge, Probleme und Ängste in anderen Nationen vor Augen führen, um somit mehr Verständnis füreinander zu schaffen.
---
24.08.19
unteilbar-Demo
Das breite Bündnis #unteilbar engagiert sich für eine offene und solidarische Gesellschaft (https://www.unteilbar.org). Nach dem großen Erfolg der #unteilbar-Demo in Berlin am 13.10.18 mit mehr als 240.000 Teilnehmer*innen veranstaltet das Bündnis nun in Dresden am Sonnabend, den 24.08.19, eine weitere bundesweite Großdemo "Solidarität statt Ausgrenzung" (https://www.unteilbar.org/demo-dd).
Hintergrund ist ein europaweit verbreiteter Nationalismus, Rechtspopulismus und Rassismus sowie die bevorstehenden Landtagswahlen in Sachsen, Brandenburg und Thüringen.
Das Entwicklungspolitische Netzwerk Sachsen (ENS), das INKOTA-netzwerk, die agl – Arbeitsgemeinschaft der Eine Welt-Landesnetzwerke in Deutschland e.V., Venro – Verband Entwicklungspolitik und Humanitäre Hilfe deutscher Nichtregierungsorganisationen e.V. und die Stiftung Nord-Süd-Brücken organisieren auf der Demo einen entwicklungspolitischen Block unter dem Motto "Ein gutes Leben für alle Menschen … hier und überall!".
---
21.08.19
Vortrag zum Thema Klimaflucht: Das Phänomen der Migration, Ursachen und Lösungen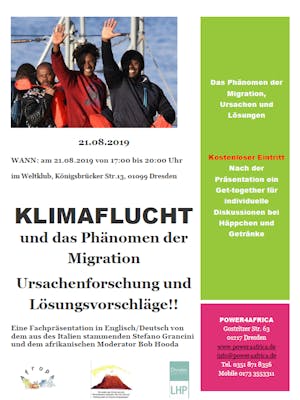 ---
05.06.2019
"Dresden isst bunt - ein Gastmahl für alle"
Am Mittwoch Abend von 17 bis 20 Uhr wird es auf dem Dresdener Altmarkt ein großes Gastmahl für all geben. Unter dem Motto "Dresden ist bunt" sollen alle Menschen bei einem gemeinsamen Essen zusammen kommen - egal ob Fleischesser oder Veganer, Einheimischer oder aus einer anderen Nation. Mit dieser Aktion soll für ein weltoffenes und buntes Dresden geworben werden. Also KOMMT ALLE! Nehmt Teil und lernt einander kennen. Lasst es uns zweigen, dass Dresden aus mehr als Montagsdemos besteht.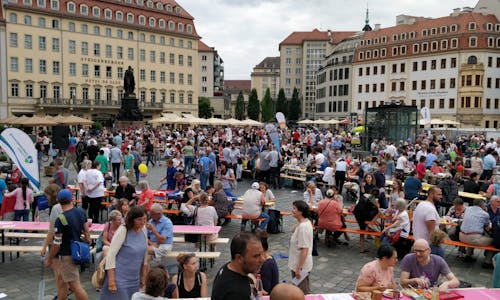 Edit: WOW! Mehr als 3000 Menschen sind gekommen und haben die Veranstaltung zu einem einzigartigen Erlebnis werden lassen. Danke an alle, die mitgemacht und/oder organisiert haben!
---
22.03.2019
Nowruz
Freitag 22.03.2019 von 16.00 bis 20.00 Uhr – Künstlerhaus, Grüner Weg 1a, 01109 Dresden
---
21.12.2018
Die Mainstream-Medien in Indien und Pakistan: Wie moralisch und frei sind sie wirklich? (Podiumsdiskussion) im Weltclub
Hierbei wurde besonderes Hauptaugenmerk auf die Hauptmedien in den beiden Ländern gelegt. Dabei wurde der Einfluss auf mögliche Lösungsansätze seziert und danach wurde sachlich diskutiert. Anschließend gab es bei persönlichen Gesprächen und asiatischen Häppchen einen runden Abschluss des Abends.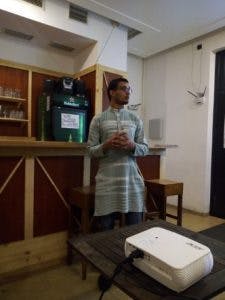 ---
Dezember 2018
Die Welt im Umbruch – Afrika im Aufbruch
Afrika als Vorreiter für eine nachhaltige Energieversorgung.
Wir veranstalten am 06. Dezember 2018 unser 14. Energieforum.
Unter dem diesjährigen Thema präsentieren wir, wie in den vergangenen Jahren, zahlreiche interessante Beiträge von Repräsentanten namhafter Firmen des Energiesektors, der Agentur für Wirtschaft und Entwicklung in Berlin, der TU Dresden sowie des Bundesministeriums für wirtschaftliche Zusammenarbeit und Entwicklung über die Einstiegschancen in Afrika – dem am schnellsten wachsenden Kontinent der Welt. Die offizielle Ansprache hält der tansanische Botschafter in Berlin, Dr. Abdallah Saleh Possi.
Diese Maßnahme wird mitfinanziert mit Steuermitteln auf Grundlage des von den Abgeordneten des Sächsischen Landtags beschlossenen Haushaltes.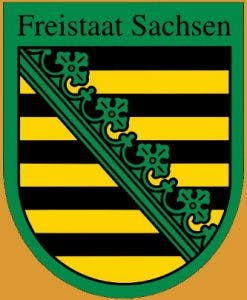 ---
11.11.2018
Fest der Kulturen in Freiberg.

Bei einem bunten treiben zu verschiedensten kulturellen Klängen und Tänzen, gab es auch ein sehr ansprechendes, internationales Buffett.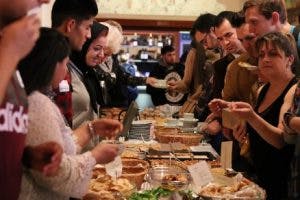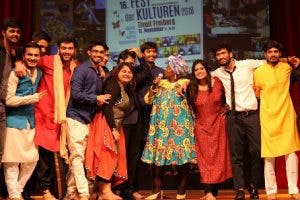 ---
28.09.2018
Glimmer of hope in Southeast Asia - will the two nuclear powers come together after the elections in Pakistan? (Lecture) in the world club.
After the elections in Pakistan on July 25, 2018, the question arose whether this would enable a rapprochement with India. This was widely discussed with experts and the audience.
---
26.09.2018
during the intercultural weeks
Marshall Plan with Africa (lecture) in the World Club
The implementation of the United Nations' 2030 Agenda for Sustainable Development was carefully examined . Particular attention was paid to the issues of health, trade policy and the development of agriculture in Africa.
---
24.08.2018
2018: The Year of the Dialoque (panel discussion) in the world club.
There were heated discussions with the experts about the policy between the two nuclear powers India and Pakistan.
---
23.08.2018
Banquet in Prohlis

We have had a great response here with Indian cuisine. Our neighbors offered Eritrean and Russian dishes. At the culinary treat we had good conversations and promoted international understanding.
---
19.06.2018
Dresden is colorful in 2018. A feast for everyone on Neumarkt.
Here we can let the pictures speak for themselves.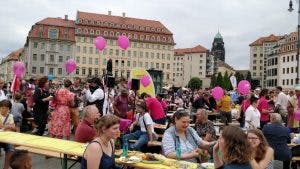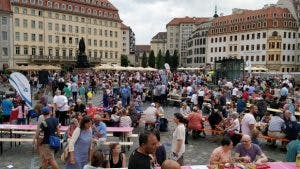 ---
03.06.2018
Mulakat

There was a cozy exchange about food, chai and folklore, which was accompanied by specialist lectures.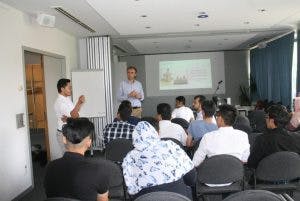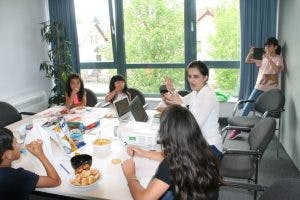 ---
April 2018
Campfire and barbecue on Walpurgis Night on April 30th in an international group.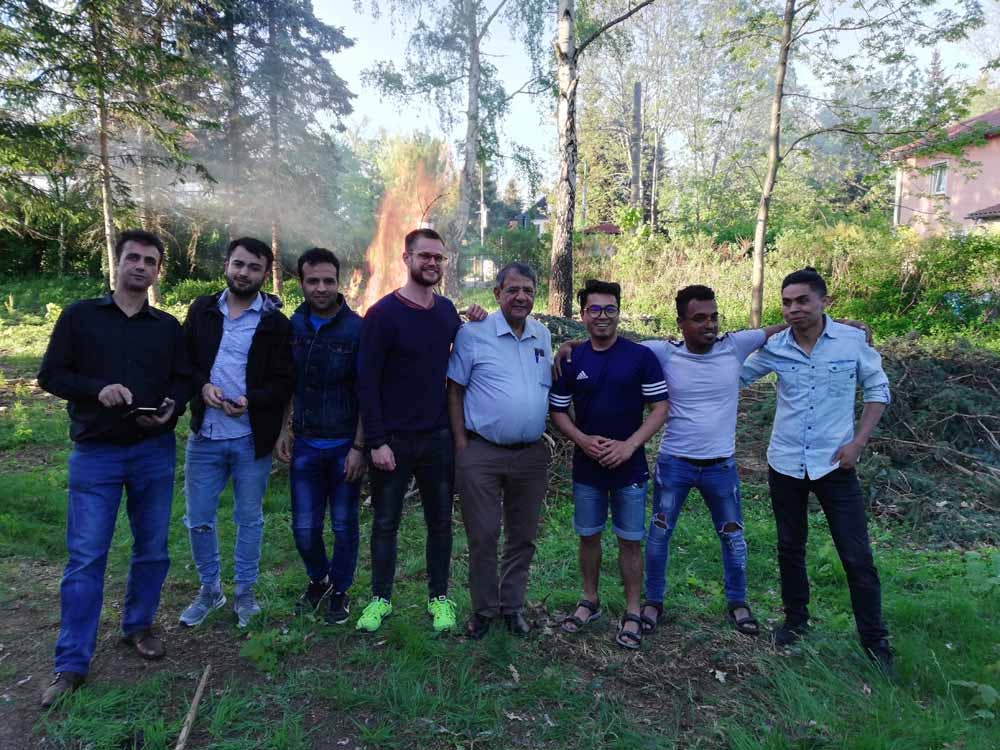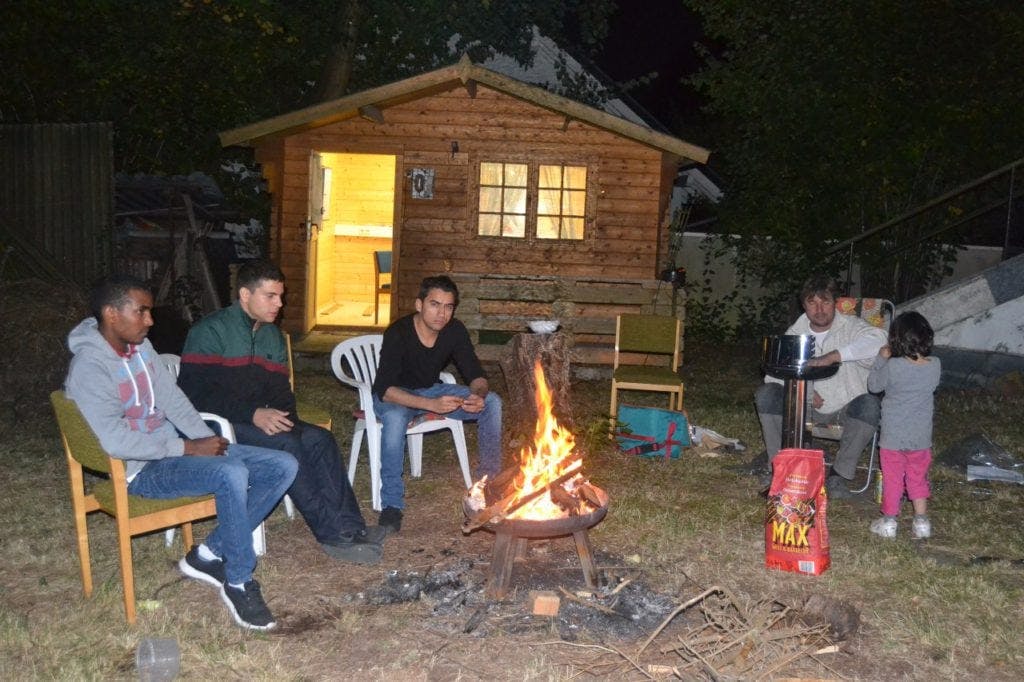 ---